Our first church service was held June 2, 1991 at a local hotel in Columbus. Through God's leading we began to rent the current facility in August of 1991.
In October of 1992 we were able to purchase the property. In 1994 we were able to build the addition which is the auditorium and in 2006 we added the second addition that contains church offices.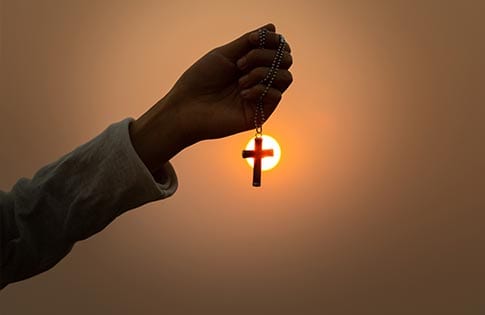 Everlasting Love Church name was given to Pastor Pat back in 1984 when he was pondering a name for his evangelistic ministry. As he pondered the words Everlasting Love came up on the inside of him. Liking the sound of it he decided to go with Everlasting Love Ministries. Several months later as he was reading through the book of Jeremiah he came across Jeremiah 31:3 – "The LORD has appeared of old to me, saying: "Yes, I have loved you with an everlasting love; Therefore with loving kindness I have drawn you."
The desire of the church is for people to experience the presence of God in each service through worship and teaching of the Word with an expectancy to watch God confirm His word with signs and wonders following.
PREPARING PEOPLE FOR ETERNITY
Our main goal is our Mission Statement "PREPARING PEOPLE FOR ETERNITY". This is a process of one's commitment to discover:
SALVATION
Salvation is God's plan for every man, he desires that men come to the knowledge of the truth. While it is God's desire for every man, each man must believe what Christ has done and confess it.
John 3:16 – For God so greatly loved and dearly prized the world that He [even] gave up His only begotten (unique) Son, so that whoever believes in (trusts in, clings to, relies on) Him shall not perish (come to destruction, be lost) but have eternal (everlasting) life.
Romans 10:9-10 –  Because if you acknowledge and confess with your lips that Jesus is Lord and in your heart believe (adhere to, trust in, and rely on the truth) that God raised Him from the dead, you will be saved. [10]  For with the heart a person believes (adheres to, trusts in, and relies on Christ) and so is justified (declared righteous, acceptable to God), and with the mouth he confesses (declares openly and speaks out freely his faith) and confirms [his] salvation.
SERVING
1 Peter 4:10 – As each of you has received a gift (a particular spiritual talent, a gracious divine endowment), employ it for one another as [befits] good trustees of God's many-sided grace [faithful stewards of the extremely diverse powers and gifts granted to Christians by unmerited favor].
Along with growth comes discovering what gifts God has given you. We do not all have the same gift, but ALL have a gift that should be used in service to the Lord and to others. These gifts are discovered as we grow in our walk with the Lord.
GROWING
1 Peter 2:2 – Like newborn babies you should crave (thirst for, earnestly desire) the pure (unadulterated) spiritual milk, that by it you may be nurtured and grow unto [completed] salvation. (Amplified)
When we become a believer, it is only the beginning of the journey. Now I must become a Disciple and mature so I can serve the Lord effectively. That growth comes through learning what God's Word says about and requires of me as a believer.
PREPARING
1 John 2:28 – And now, little children, abide (live, remain permanently) in Him, so that when He is made visible, we may have and enjoy perfect confidence (boldness, assurance) and not be ashamed and shrink from Him at His coming.
We need to live with an awareness that one day we will stand before our Savior and give an account for our lives. So today I strive to live my life in anticipation of eternity. 
Matthew 25:13 –  Watch therefore [give strict attention and be cautious and active], for you know neither the day nor the hour when the Son of Man will come.